Thinking of upgrading your kitchen cabinets in Port st Lucie?
Kitchen cabinets Port st Lucie – Kitchen cabinets Port ST Lucie – Here at Delta Woodworks, we specialize in designing kitchens that are tailored to your needs. For years now our team has been working with some of the most demanding clients around and have helped them achieve their dream kitchen space while still maintaining high standards on workmanship. We will provide you not only an incredible design but also expert installation services so everything about this project is done right from start to finish.
We pride ourselves on providing customers with high-quality products that will last longer than other It's no secret that most home renovations end in a disaster. But when you want something done right and don't have the budget for second-rate workmanship, we're here to provide high-quality products with long-lasting durability so your investment lasts longer than anything else out there.
Why go to the hassle of finding a cabinet company when Delta Woodworks has what you need? We provide quality work at an affordable price, and we make sure all our customers are satisfied with their experience.
In today's fast-paced world, most people would rather have their kitchens installed quickly without We are proud of how innovative our designs can be while still maintaining high standards throughout all stages from the design process down to low production time frames that only last 4-8 weeks.
Top Kitchen Cabinets Port st Lucie FL
Kitchen cabinets are an investment that you won't regret making. We have the perfect kitchen cabinet for your home, whether it be one with a modern or traditional aesthetic taste in design-we've got something to fit any style. Our kitchens come equipped not only with fashionable face frames but also sturdy wood bodies made from genuine tree trunks which will give them extra durability so they can last through years of use without showing wear-and-tear quickly like other cheaper composites might do over time.
Kitchens are often underrated when it comes to making a home stylish, but you can change that with our selection of real wood options from Delta Woodworks. With our high-class designs, we will provide the perfect touch for your next project.
Made in USA – 4-8 weeks turnaround time
You can save both time and money with our short production turnaround. All these cabinets are made in Florida, so you'll have four or eight weeks to wait until your next set is ready at the factory. Our workmanship will help make designing a kitchen easier for our customers.
We at Delta Woodworks are ready to take on any challenge, regardless of size or complexity. Our craftsmen have the experience needed for tough jobs like kitchen cabinets design and installation in Port St Lucie, FL with a professional tone that will make you look good.
Kitchens are the heartbeat of any home. They provide a sense of comfort, safety, and warmth that's hard to match with anything else in life. But did you know there is more than just designing an amazing space for cooking? A kitchen can be so much more – it's where we spend most of our time when at work or relaxing after dinner, it should therefore reflect what matters most about this special place inside your house.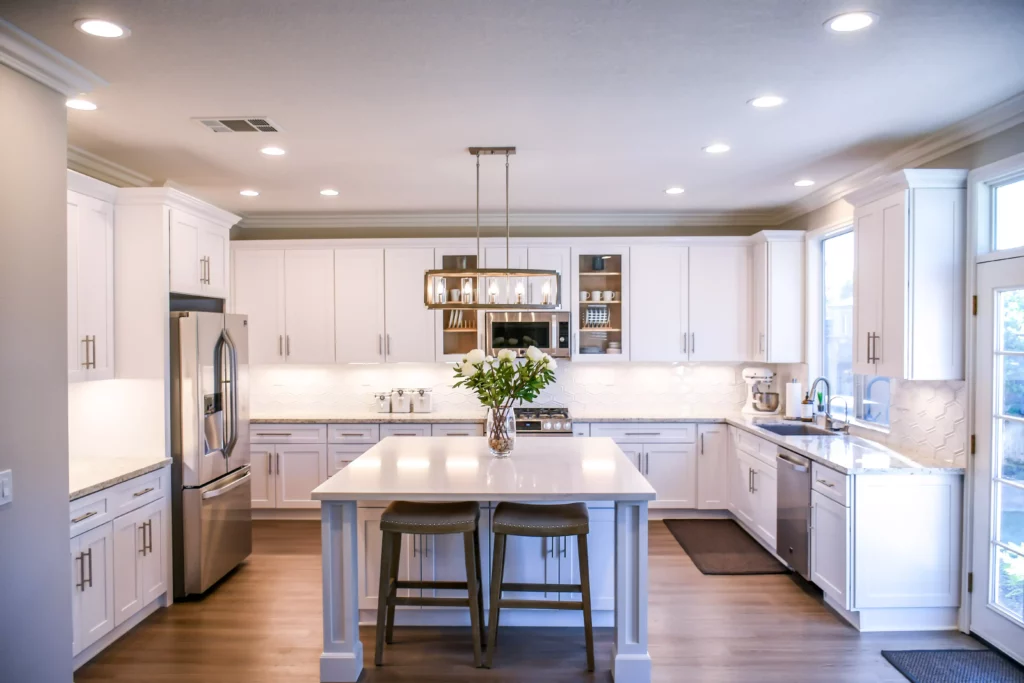 Modern Kitchen cabinets in Port st Lucie FL
Kitchens are often one of the first rooms to get remodeled when a home gets renovations done. It can be stressful and trying, not only because you're dealing with budgeting for your updates or trials around dates set without input from yourself – but also how much this will affect things in general after everything is finished.
If you are looking for the best kitchen cabinets Port St Lucie, FL then look no further than Delta Woodworks. We offer high-quality materials and will give your home that sleek look everyone wants.
When building your dream kitchen or bathroom, Delta Woodworks is an experienced company to work with. With years of experience in designing kitchens and other spaces from scratch as well as updating old ones like yours – we can make any vision come true.
Homeowners in Port ST Lucie area can find great value with Delta Woodworks. We provide affordable kitchen cabinets and service that is second to none, which makes us the most popular company in south Florida.