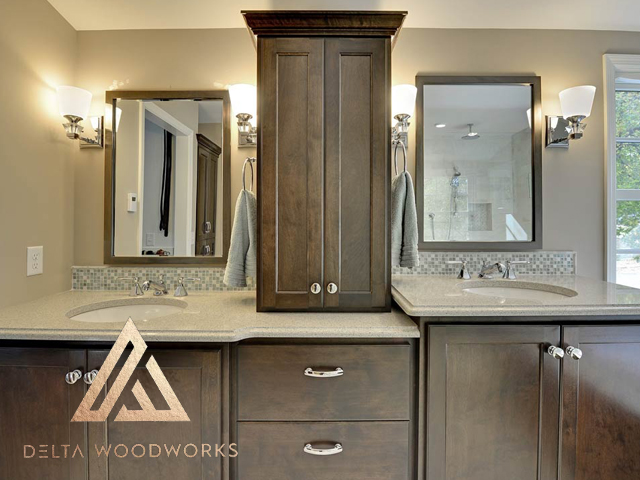 Bathroom Design | Delta Woodworks, a local company specializing in custom cabinetry as well as bathroom design and much more. Contact us for a free estimate.
Bathroom Design | Expert Services
Revolutionizing Bathroom Cabinetry with Innovative Designs for Modern Living
By embracing technology, sustainability, and customization, modern bathroom cabinets have become more than just storage solutions—they are works of art that enhance our daily rituals and elevate our well-being. Whether you seek a minimalist retreat or a technologically advanced sanctuary, the possibilities are endless when it comes to revolutionizing your bathroom cabinetry for modern living.
Customization Maximizing Space Utilization
Gone are the days of standard, cookie-cutter bathroom cabinets. The revolution in bathroom cabinetry design focuses on blending functionality, aesthetics, and customization, all while maximizing space utilization. Designers are embracing cutting-edge materials, sleek finishes, and smart storage solutions to create a seamless and harmonious environment.
Smart Technology Trend
One prominent trend in revolutionizing bathroom cabinetry is the integration of technology. Smart cabinets equipped with motion sensors, LED lighting, and built-in charging stations have become popular choices for tech-savvy individuals. These advanced features not only add convenience but also elevate the overall ambiance of the space. Imagine stepping into a bathroom where the cabinets softly illuminate as you approach and your devices charge wirelessly while you indulge in a relaxing soak.
Environmentally Friendly Materials
Another aspect that has gained considerable attention is sustainability. As eco-consciousness grows, designers are exploring environmentally friendly materials and manufacturing processes. Recycled wood, bamboo, and reclaimed materials are being used to create stunning cabinetry designs that not only reduce carbon footprints but also bring a touch of nature into the bathroom. From eco-friendly finishes to water-saving fixtures, these sustainable cabinetry options align with the principles of responsible living.
Sleek Contemporary Design
In terms of aesthetics, minimalism and clean lines continue to dominate contemporary bathroom cabinetry design. Sleek, handle-less cabinets with smooth surfaces create an uncluttered and streamlined appearance. High-gloss finishes and reflective surfaces add a touch of sophistication, while matte textures offer a subtle elegance. Mixing materials such as wood, glass, and metal creates an interesting juxtaposition and adds visual interest to the space.
Personalization
Furthermore, customization has become a key focus in revolutionizing bathroom cabinetry. Designers are offering a range of modular options that allow homeowners to personalize their cabinets according to their specific requirements. From adjustable shelves to pull-out organizers, every inch of space is utilized efficiently, ensuring a clutter-free and organized bathroom.
Bathroom Design | Quick Turnaround
Services:
Bathroom Design
Kitchen Design
Closets and Mudroom
Wall Unit Shelving
Wine Storage
Storage Design
Consultation To Installation
Custom Cabinets Fabrication
In-House Fabricating and Manufacturing
Quick Turnaround
High Quality
Hassle Free Installation
Unique Design
No Hassle Consultation
Call: 786-614-0917
Visit our website: https://deltawoodworksfl.com or contact us today.