Benefits of kitchen renovation | Delta Woodworks, a local company, provides superior custom kitchen cabinets, vanities, wall units, and more. Contact us for a free estimate.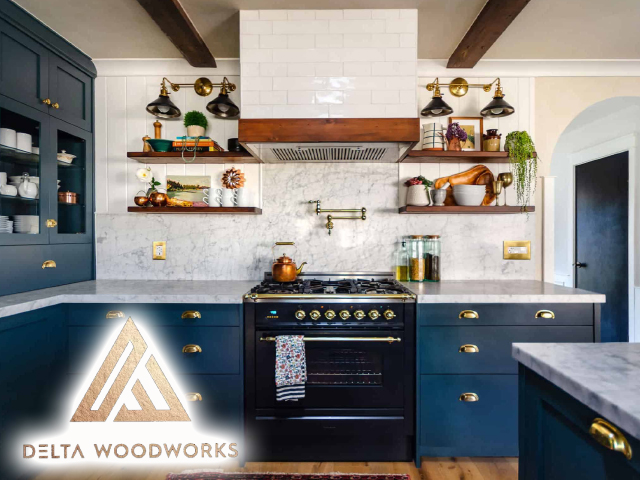 Benefits of kitchen renovation | Excellent custom woodwork
There are some definite benefits of kitchen renovation. Americans are increasingly remodeling their homes to suit their individual tastes and lifestyles. Among the many options available to homeowners when it comes to remodeling their homes is design build remodeling. In addition, outdated clunky setups can make cooking basic meals a challenge due to the amount of time we spend in the kitchen. Rather than making your kitchen accommodate you, here are five benefits of kitchen remodeling. We at Delta Woodworks are a local company that offers a wide range of services and guarantee customer satisfaction.
An increase in space
In small kitchens, navigation can be a nightmare, especially if more than one person is present. With the help of a design build remodeler, you can determine how to best open up your home's layout so you won't have to step around others as you cook. Additional cabinets and drawers can be fitted into the extra space if you currently have limited storage.
Enhanced functionality
It is also possible to upgrade features so that they are more functional when remodeling a kitchen. The old appliances that came with the house may not function as they should if you're still using them, especially if they're over a decade old. It may also be difficult to efficiently accomplish tasks if your appliances are not arranged in the most functional way. Remodeling the space provides an opportunity to add new, functional pieces that operate as they should and are tailored to your needs.
Eco-friendly
If your kitchen is over a decade old, you probably aren't saving money on your energy bills with outdated appliances. You can save hundreds of dollars each year on electricity costs when you update appliances with energy-efficient models. They're not just easier to use while cooking.
An improved level of comfort
No one likes feeling uncomfortable in their own home, and outdated kitchens are sure to cause this feeling. Your new kitchen can be tailored to exactly what you want with the help of design build remodelers. Depending on your needs, your contractor may be able to add an island for additional functionality. To get the most comfortable and cleanest arrangement, you can also speak with them about the different types of materials you want to use.
An increase in value
You may not be considering selling your home anytime soon, but the return on investment is something you need to consider when remodeling your kitchen. The ROI on even minor remodels can be up to 82.7%. A kitchen that provides these benefits can also make it easier to sell your home in the future.
Remodeling the kitchen is the most popular home improvement project in the United States, with millions of Americans doing it every year. Review our website today and contact us for more information and a free estimate.
Benefits of kitchen renovation | Outstanding customer service
Services:
Modern Kitchen Design
Modern Bathroom Design
Closets and Mudroom
Wall Unit Shelving
Wine Storage
Storage Design
Consultation To Installation
Custom Cabinets Fabrication
In-House Fabricating and Manufacturing
Quick Turnaround
High Quality
Hassle Free Installation
Unique Design
No Hassle Consultation
Call: 786-614-0917